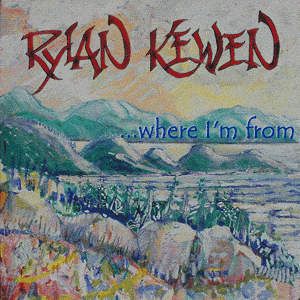 The covers of my first solo album:"...where I'm from"
©2000 Rylan Kewen / SOCAN
The front cover was painted by Timothy Shay.
Back cover photo by Greg Sheppard.
My first solo acoustic guitar album "...where I'm from" has been out for a few years and has received some national radio play on CBC as well as a fair bit of regional radio play thanks to the folks at CJLY 93.5 FM right here in Nelson B.C.

"...where I'm from" is available online from CDbaby.com possibly the largest all independent artist CD store online...
Just click on one of the the links!

At CDbaby you can also preview some tunes in Realaudio format !